Hearing Products
Even a slight loss of hearing can have an impact on your overall quality of life, and a hearing aid can help you rediscover the world around you! There are many options available for today's hearing aids, and the professional audiologists at Dr. Eimers Hearing Clinic are ready to discuss them with you. Contact us today for a consultation.
Hearing Technology
Modern Solutions For All Types of Hearing Loss
Thanks to advances in technology, hearing products are designed to be more compatible with our lives than ever before. In addition to hearing aids, there are a number of products that make living and communicating with hearing loss easier to manage, so you never miss a beat.
Technological advances have given us access to a wide variety of devices with incredible features, one of which is sure to fit your unique lifestyle. If you always have your phone at hand, you can opt for a state-of-the-art Bluetooth®-enabled device. These small, discreet hearing aids pair directly to your Android™ or Apple® device, can be monitored and updated via an app that allows you to customize your levels in seconds as the environment around you changes, and have wireless charging capabilities. We also offer traditional behind-the-ear units for clients that don't want to be dependent on their phones or may be intimidated by high-tech units.
More on Hearing Aid Styles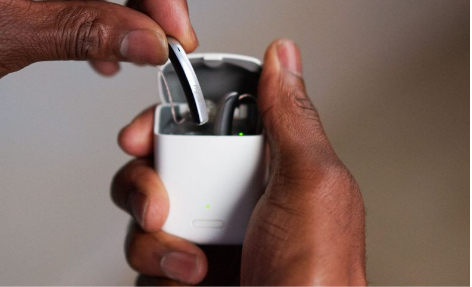 Hearing Product Guide
Curious About Hearing Technology, but Not Sure Where to Start?
With so many styles and options, it can be difficult to know which products will suit your needs. Our Consumer Guide to Hearing Aids provides an in-depth breakdown of the different types of hearing devices, as well as the technology available for all types of hearing loss.
Hearing Aid Manufacturers
Hearing Products Created by the Best in the Industry
When it comes to hearing loss, you need a device you can rely on to perform its best. That's why we carry products from manufacturers with a proven track record of exceptional quality. No matter your budget, lifestyle or type of hearing loss, we have a product to meet your needs.
ReSound Hearing Products
Resound offers the most comprehensive line of devices for people experiencing moderate-to-profound hearing loss. Premium hearing aids deliver distortion-free sound with direct streaming from your favorite device and allow you to manually adjust the sound levels with a simple swipe on your phone screen.
View All Products
Starkey Hearing Aids
Intelligent solutions offer superior quality and focus on diminishing the sounds you don't need or want to hear while amplifying what is important to you in the moment! Brand-new technology allows hearing aid users to stream through late-model Apple products for hands-free communication or listening to audio content.
View All Products
Jabra Enhance Plus
Combine aesthetics and ground-breaking technology for incredible audio clarity with miniaturized earbuds! Four dedicated microphones enhance hearing by reducing background noise and improving speech clarity in nearly any situation. These are also a great choice for enjoying music or chatting on the phone.
View All Products
Hearing Protection
Make Protection a Priority
Protecting your ears from noise damage is essential to healthy hearing. We carry a wide variety of options equipped with the latest features and customizations, so you can find the best fit for your lifestyle.
Prolonged exposure to noise is one of the leading causes of hearing loss. Because it happens over an extended period of time, this type of damage is often detected too late, which means the hearing loss is usually irreversible. Contact us today to discuss options for custom earmolds or earplugs, musician earplugs and monitors or in-ear monitors (IEMs). Regardless of your work, lifestyle or hobbies, the audiologists at Dr. Eimers Hearing Clinic can help you determine the best way to protect your hearing health now and in the future.
More on Hearing Protection